Medication management can help control cravings while you go through the crucial process of detox and recovery. By reducing cravings or the impact of withdrawal symptoms, medication can increase your chances of remaining in recovery. At Pines Recovery Life Detox in South Florida, we have a Vivitrol treatment program designed to ease the discomfort of recovery from alcohol use disorder. Additionally, you can combine this protocol with other types of therapies, such as individual therapy, group therapy, and substance-specific programs. Learn more about Vivitrol treatment for alcohol addiction from our team today by completing our online form or calling 800.263.3869.
Understanding Vivitrol
Vivitrol may reduce alcohol dependence to prevent a relapse. Medical professionals stress the importance of refraining from alcohol while using Vivitrol. Basically, a Vivitrol injection eases cravings and helps you concentrate on working your program.
That's excellent news for alcohol use disorder patients who currently rely on opioid treatment. Vivitrol for alcohol addiction is safe when used under the supervision of medical professionals. For Pines Recovery Life Detox residents, staff members can explain how the medication works. Additionally, we prepare parents or assigned caregivers to decide on treatment for loved ones.
Effects of Vivitrol
Like any medication, Vivitrol has potential side effects. It's essential to understand the side effects before consenting to treatment using this medication. Opioid-based Vivitrol has shown true promise in the treatment of alcohol and opioid disorders. Only use medication prescribed by medical professionals. In this case, the medical staff at Pines Recovery Life Detox can provide Vivitrol if they determine it will help you achieve recovery.
Some of the side effects possible when using Vivitrol include:
Cramps
Constipation
Sleeplessness
Nausea
Fever
Mood swings
Less severe side effects include body aches, restlessness, diarrhea, dizziness, and stomach pain. You can help someone you love break their addiction to alcohol by encouraging them to receive the proper treatment for their disorder. In many cases, Vivitrol can provide support during detox and recovery.
Are you looking for an effective treatment program for someone you love? Medication-assisted options such as Vivitrol have shown promise in curbing the cravings associated with alcohol addiction.
At Pines Recovery Life Detox, we have compiled a team that gives careful thought to therapies for substance use disorders. Vivitrol often promotes better treatment outcomes. When it does, it makes a great addition to alcohol rehab protocols. Additionally, it may ease the transition out of rehab and back into everyday living.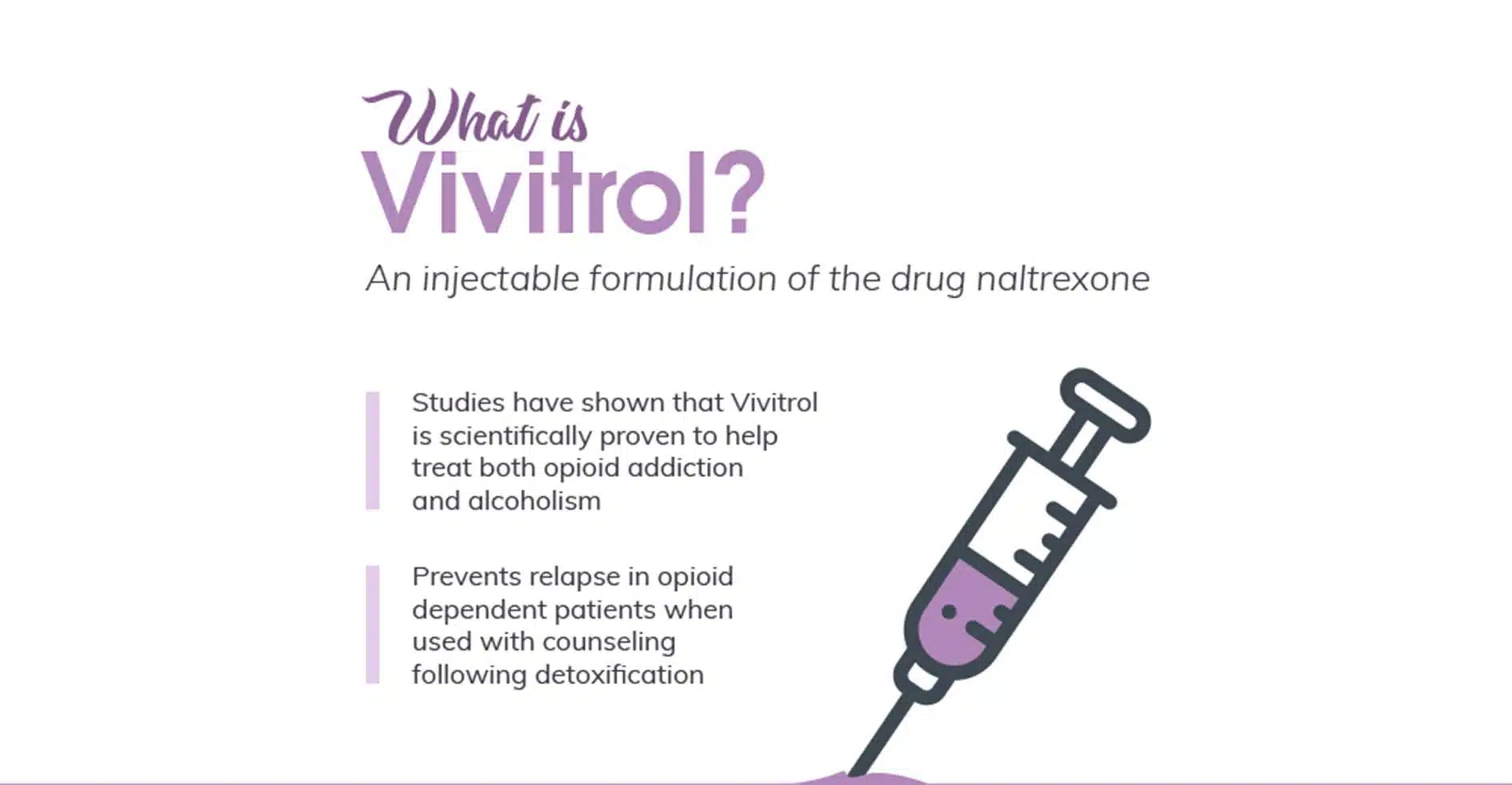 Elements of Effective Treatment
Vivitrol alone isn't enough to wean your body off alcohol. At Pines Recovery Life Detox, our certified addiction staff offers many options for medication-assisted and other types of therapy. So, if you need mental health therapy in addition to substance use disorders, we can help.
Elements of an effective treatment program include evidence-based therapies such as family therapy, group therapy, and cognitive-behavioral therapy. Intervention and counseling services often include prescription medication. Some of the non-medication therapy programs available in our alcohol addiction treatment program include:
Acceptance and commitment therapy
Contingency management
Community reinforcement and family training
Dialectical behavior therapy
Dual diagnosis
Holistic therapy
Cognitive-behavioral therapy
If you're ready to stop the destructive habits associated with alcohol use disorder, you can trust the experienced professionals at Pines Recovery Life Detox. By treating the whole individual, mind, body, and soul, we hope to make the difference needed for lasting recovery.
Enroll in Vivitrol Treatment for Alcohol Addiction at Pines Recovery Life Detox
Whether you need alcohol detox treatment for yourself or a loved one, Vivitrol treatment for alcohol addiction can reduce cravings and let you concentrate on getting well. You don't have to struggle, wondering if you'll ever find the courage to stop drinking. There's no reason for you to go through the process alone. If you would like more information on Vivitrol or other medication-assisted therapies, contact us by calling 800.263.3869 or completing our online form today.